Hurlers' fears over ash fungus eased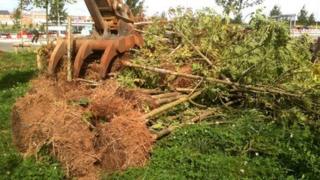 The NI Agriculture Minister has strengthened emergency legislation to curb the spread of a fungus that destroys ash trees.
However, Michelle O'Neill moved to reassure manufacturers, including those who make hurley sticks, that ash could still be imported.
"This new legislation means that from today, ash can only be imported under certain technical conditions as set out in the Order," she said.
"There are regular imports of ash logs for manufacturing purposes, mainly hurley sticks, and for fire wood. As a potential pathway for the disease, it is an unacceptable risk."
Ms O'Neill said she felt the stronger law was "a proportionate response to the risk of introducing disease in wood".
Chalara ash dieback, caused by a fungus called Chalara fraxinea, has been found in Great Britain.
In Denmark, the disease has wiped out about 90% of the ash trees.
Hurling clubs have expressed concern at a ban of imports of ash trees by the authorities in Northern Ireland and the Republic of Ireland to help prevent the spread of Chalara dieback.
Ash dieback has recently been reported in County Leitrim.
The disease was reported in Great Britain this month at two sites in East Anglia. It had previously only been recorded in nursery specimens.
Visible symptoms include leaf loss and crown dieback in affected trees, and it can lead to tree death.
Experts say that if the disease becomes established, then it could have an impact on the landscape similar to that cause by Dutch elm disease in the 1970s.
It is widely expected that legislation will be passed by Westminster in time for a ban to be in force by mid-November.