Air passenger duty abolished on long haul flights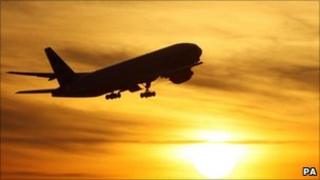 The tax on long haul flights out of Northern Ireland has been abolished.
The Stormont assembly passed the final stage of the Air Passenger Duty Bill on Tuesday.
Duty on direct long haul flights departing from Northern Ireland airports will be reduced to zero from January 2013.
The abolition of the tax was welcomed by finance minister Sammy Wilson as a boost to the Northern Ireland economy.
"Direct air links facilitate local firms in doing business with customers outside the region," he said.
"They are also vital for the local tourism industry and in attracting foreign direct investment to Northern Ireland, both key to growing and rebalancing our economy.
"Abolishing air passenger duty on long haul flights will help to protect and improve our international air access and ensure the competitiveness of our airports."
John Doran, Belfast International Airport's managing director said: "Given the increasing differential with regard to direct long haul air passenger duty levels between the UK and Republic of Ireland, and the very specific problems which this caused for Northern Ireland connectivity, we are grateful to the Northern Ireland Executive and HM Treasury that decisive action has been taken.
"We now look forward with renewed vigour to building upon the success of our direct US air links, as well as reaching out into key additional long haul markets in Canada and the eastern hemisphere, in partnership with the investment and tourism authorities."