NI teachers' union urges action over GCSEs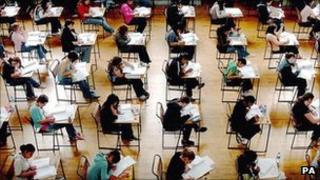 Teachers' leaders have urged the education minister to decide the future of GCSEs in Northern Ireland.
Speaking ahead of the ASCL annual conference in Templepatrick later, they warned that the NI examinations system risks being perceived as "second rate".
They called on John O'Dowd to act immediately over GCSEs.
"Our members are concerned about the potential separation developing between the nature of qualifications in England and those in NI," said Deborah O'Hare.
"They feel it could disadvantage university admissions for Northern Irish candidates in the future. We call on our local exam board CCEA to engage with us on this vital issue."
Ms O'Hare, the Northern Ireland president of the ASCL (Association of School and College Leaders) said the currency of GCSEs had been undermined by recent high profile errors in assessment.
"The public must have confidence in the exam system. The pace of change in England is rapid, and we run the risk of having a Northern Ireland examination system perceived as second rate, with examinations valued less by universities than their English counterparts," she said.
Ms O'Hare added that as a group of experienced school leaders ASCL, NI wished to help overcome inequalities and offer time and concern for young people.