Robert McCartney murder: Padraic Wilson granted bail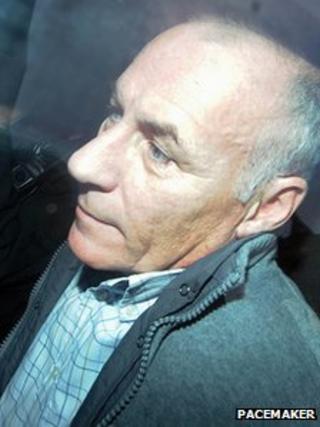 Leading republican Padraic Wilson has been released on conditional bail.
He had been remanded in custody after being charged with offences in relation to the murder of Robert McCartney in 2005.
He has been charged with IRA membership and addressing a meeting to encourage support for the IRA, which he denies.
Bail was granted by the High Court in Belfast but Mr Wilson was not in court and will be released from Maghaberry Prison.
Mr McCartney, 33, was stabbed to death outside Magennis's bar in Belfast.
It is alleged that Mr Wilson and another unidentified man held at least two meetings with the victim's family following the killing.
Opposed
According to the prosecution, he claimed to be a member of the IRA's army council carrying out an internal investigation into the murder.
He is not accused of any involvement in events surrounding the killing itself or a subsequent clear-up operation.
Police have received six statements from the McCartney sisters and Bridgeen Hagans, the victim's fiancee.
The prosecution opposed bail due to the alleged risk of interference with witnesses.
However, defence barrister Neil Fox said: "We are dealing with a number of complainants whose brother was murdered a number of years ago and who mounted a very successful, high-profile campaign into the investigation which took them to the doors of Downing Street and the White House.
"These are people who have remarkable fortitude. The idea that Mr Wilson or someone like him could somehow influence them or make them in some way cowed by some remark is just illogical."
Ruling on the bail application, Mr Justice Horner acknowledged defence submissions that others formerly charged over the murder had been granted bail.
"It would be unfair and disproportionate if this man who is charged with lesser offences was treated in a harsher way," the judge said.
"Secondly, the way in which this man has behaved over the last number of years from 2005 does give some confidence that there will be no attempt to interfere with witnesses."
Mr Wilson was released on two sureties of £900, banned from making any contact with the complainants, and ordered to report to police twice a week.
The 53-year-old, of Hamill Park, Andersonstown, west Belfast, was a key negotiator in the Maze Prison in the late 1990s.
Earlier at the hearing, Sinn Fein South Antrim assembly member Mitchel McLaughlin told the judge that Mr Wilson was a strategic contributor to the peace process and provided leadership in encouraging the community to support the police.
High-profile campaign
Mr McCartney's murder had major repercussions for Sinn Fein which, at the time, was involved in delicate political negotiations aimed at securing its support for the police.
Within hours of Mr McCartney's death, it was claimed that IRA members had been involved after a fight - a claim rejected by Sinn Fein.
Mr McCartney's family accused republicans of covering up what happened, and threatening witnesses. His sisters accused Sinn Fein and the IRA of obstructing efforts to bring their brother's killers to justice.
They mounted a high-profile campaign that took them from the streets of the working class nationalist Short Strand area of Belfast to the White House, and even to Sinn Fein's conference in Dublin.
The IRA said it had expelled three members over the murder and Sinn Fein subsequently suspended seven of its members.
In 2008, Terence Davison, 51, was acquitted of Mr McCartney's murder and two other men were cleared of charges connected to the killing.