John Mongan 'murdered in front of wife and child'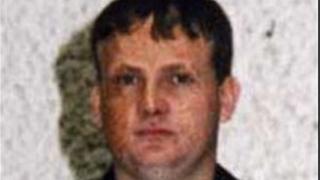 A man was murdered in front of his "heavily pregnant" wife and young daughter, a jury has heard.
John Mongan, 30, was attacked in his home by three men using possibly a hatchet, a machete and a baseball bat.
During the attack in a house in Fallswater Street, Belfast, Mr Mongan's daughter, 7, came out of her bedroom and saw her father being battered.
Martin Stokes, 19, Glendale Road, Londonderry, is accusing of murdering Mr Mongan on 7 February 2008.
He is also accused of causing criminal damage to a Mitsubishi Shogun jeep.
Prosecuting QC Frank O'Donoghue told the jury that Mrs Julia Mongan had positively identified Stokes, who is her cousin, as one of the three men who attacked her husband.
'Torrential bleeding'
He also told the jury that two other witnesses, John and Kathleen Stokes, came forward last April to tell police that before the men went to Fallswater Street, they had called at their former home in Norfolk Grove.
The lawyer said Mrs Mongan's identification of Martin, Edward and Christopher Stokes was supported by the fact that Mr Mongan's blood had been found on Edward.
He added that a mobile phone associated with Christopher could be shown to have travelled from Derry to the Falls Road area of west Belfast "at a time consistent with the killing".
Mr O'Donoghue told the jury how Mr Mongan's death was due to multiple cuts and stabs from bladed weapons which caused "torrential bleeding".
"You may feel that the nature and extent of the multiple injuries caused are such to suggest that this was intended by the persons who attacked him to be more than a beasting and indeed, provide significant evidence that the attackers intended to kill John Mongan," he added.
The trial continues.