Exploris aquarium to be run by private company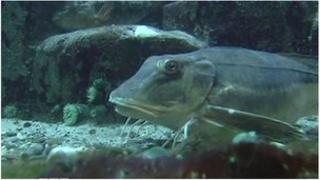 Northern Ireland's main aquarium, the Exploris centre in Portaferry, is to be run by a private company.
Ards Borough council agreed to lease the centre to the private sector at a meeting held behind closed doors on Monday evening.
The council say the aquarium costs the local rate-payers almost £500,000 a year to run.
Details of the deal will not be announced until later, following a 10 day "stand still" period.
After more than an hour of discussion, the council agreed that the private sector bid to lease the Exploris centre should be given the go ahead.
Protesters gathered outside the council offices while the meeting was taking place.
Antoinette McMillen from Nipsa said: "We believe that this service is best served and the people of this community best served by public services and not by the private sector who are going to make profits off this.
"These profits are not going to go back into the local community and we believe the service is best looked after by accountable representatives," she said.
A spokesperson for the council said, "In February the council invited proposals for investing in the facility and surrounding land to establish a clear direction for the future of the aquarium and to reduce the financial burden on rate-payers which currently runs to around £550,000 each year.
"The Council has agreed to accept the bid, which is now subject to a 10 day 'stand still' period. After that time has elapsed, the council's priority will be to inform staff at the aquarium of the outcome before releasing details to the general public."
Exploris Staff say this is just the start of their campaign against privatisation.
No councillors from Ards Borough Council were available for comment following the meeting.