Assembly pass motion supporting Councillor Sammy Brush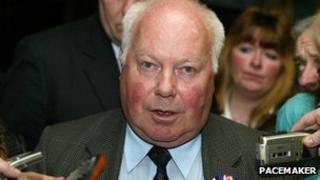 Mitchel McLaughlin of Sinn Fein said his party colleagues had not wanted to cause a DUP councillor additional anxiety when they brought forward a council motion asking for the release of the man convicted of his attempted murder.
Off-duty UDR soldier Sammy Brush was shot and injured as he was doing his rounds as a postman in June 1981 in Aughnacloy, County Tyrone.
Ex-IRA man Gerry McGeough was convicted of attempted murder in 2011.
Mitchel McLaughlin was referring to Dungannon and South Tyrone Council, of which Mr Brush is a member, which recently passed a motion calling for McGeough's release.
Mr McLaughlin said he had spoken to his party colleagues who he said had made it clear they were addressing "an issue, as they saw it, of injustice and they in no way wished to cause him (Mr Brush) additional stress or anxiety".
The comments came during a DUP motion which called on support for Mr Brush.
First Minister Peter Robinson said Mr Brush was "not just a victim, he is a hero". He asked the the UUP not to bring forward their amendment as it would "dilute this".
Fermanagh and South Tyrone MLA Tom Elliott said his party had tabled their amendment as they believed the motion should be extended to cover all elected representatives, and their families who had been targeted by paramilitaries throughout The Troubles.
He said he "wholeheartedly supported Sammy" but "let's not forget all those who were murdered".
Mr Elliott said he called on members from the other side of the house to stop their calls for Gerry McGeough and Padraic Wilson to be released and to let justice take its course.
Mr Wilson, a senior republican, is in custody after being charged with offences in relation to the murder of Robert McCartney in 2005.
The SDLP's Alban Maginness said: "We have every sympathy with Councillor Brush and he suffered an horrific attack from which he still suffers."
However he said he believed that complex issues needed to be addressed in McGeough's case and it was "not simply black and white".
Trevor Lunn of the Alliance Party said he supported the motion and said Mr Brush had shown "terrific commitment and bravery".
He said he would prefer not to support the UUP amendment as he felt there was "no need for it as it dilutes the original motion".
The motion, as amended by the UUP, was passed by 66 votes to 27.