Ballymena firm Patton goes into administration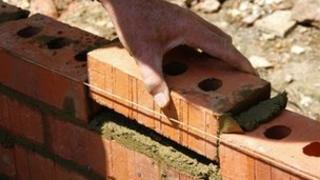 Administrators have been appointed to the Ballymena based Patton group.
The business will continue to trade while the administrator, Tom Keenan of Keenan CF, decides its future.
Among the possible options are breaking up the company, continuing to run its most profitable parts or finding a buyer for bits of it.
It currently employs 320 staff in various parts of its construction business.
Neil Patton, chairman of Patton Group, said: "This is a very sad day for everyone connected to this family business and the communities we have served for the last 100 years.
"Administration became inevitable because of the general downturn in the building sector, pressure on margins and the resultant impact on cash flow."
Enterprise Minister Arlene Foster said the news from Patton was "very worrying for everyone involved with the firm".
"I very much hope the administrator can find a resolution which will safeguard existing jobs at the company," Mrs Foster said.
"Invest NI has supported the company as recently as this summer to help it identify training needs and to develop export opportunities for its fit-out business.
"Invest NI has been in contact with the company to offer help and remains willing to provide whatever advice and guidance possible."
£7m loss
The company had warned on Monday that it was facing serious financial problems.
The group had until recently managed to survive the downturn in construction industry and was behind a number of key construction projects. But last year it posted a loss of £7m.
A family-run firm, Patton's has been in business for the past 100 years.
The Patton Group is the principal sponsor of Ballymena rugby club having signed a three-year deal in 2010.
Earlier, North Antrim MP Ian Paisley said he had met Executive ministers Sammy Wilson and Mrs Foster to discuss the firm's difficulties which he described as "heartbreaking".
"These stories which hit honest, decent, salt-of-the-earth folk like the Pattons and those who work for them, hit us all hard," he said.
"There are people in Ballymena tonight who are distraught and saddened that this has happened, but they will fight back and do what they can to try and get out of this problem that has arisen."
John Armstrong of the Construction Employers Federation said he believed Stormont ministers should invest further money in "capital infrastructure projects" to help the construction sector.
He said construction output had dropped by £1bn in Northern Ireland over the past five years, with the loss of thousands of jobs.