Public bodies taken to task over spending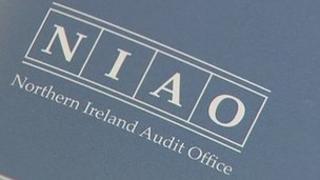 More and more public bodies are failing to follow the rules when they spend money or award pay increases to staff, the Auditor General has said.
The auditor general's office checks the accounts of public bodies.
In his latest report, he highlights flaws in the accounts of education and library boards, grammar schools and the Londonderry regeneration body, Ilex.
He said over two years, education boards gave unauthorised payments to staff of more than £1m.
Those extra amounts to staff doing extra duties were not formally approved until after the payments had been made, according to the report.
Ilex was also found to have paid out £400,000 without approval.
Voluntary grammar schools and integrated schools have not been following the rules in declaring the salaries of non-teaching staff, even though they were supposed to since 2007.
The auditor's report also highlights what it calls the serious financial difficulty in Belfast Metropolitan College.
However, it said that the deficit had reduced from £2.5m to £1.5m last year. The college's move to the Titanic Quarter is currently being investigated to see if it has been value for money.