David Black funeral: Killers 'bloodthirsty criminals'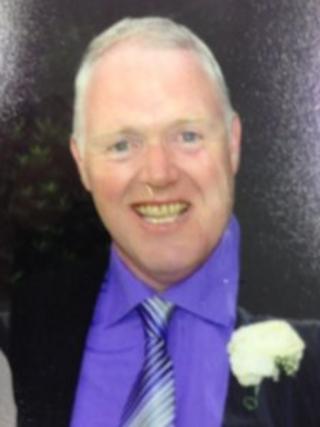 Mourners at the funeral of murdered prison officer David Black have heard his killers described as "murderous thugs and bloodthirsty criminals".
The father of two was shot dead on the M1 in County Armagh on Thursday as he drove to work at Maghaberry Prison.
The 52-year-old was the first prison officer to be murdered in Northern Ireland in almost 20 years.
His funeral service took place at Molesworth Presbyterian Church in his home town of Cookstown, County Tyrone.
The interment, which is private, took place at Kildress Parish Church.
A private service was earlier held at Mr Black's house.
At the church service, a poem was read out by Mr Black's daughter Kyra.
She broke down as she said her father was also her "special hero".
There was also a tribute from his son Kyle, who said his father was a family man and a gentleman, who always had a smile for everyone.
He said the killers could never take away the love the family had for his father and the memories of him they would cherish forever.
Rev Tom Greer said Mr Black was "a man of honour and principle, a man of kindness and generosity, a man committed to peace and prosperity in Northern Ireland - all those things completely the opposite of the murderous thugs and bloodthirsty criminals who took David's life.
"It is so terrible that evil men with such hatred in their hearts should rob us of a great man like David with love and kindness in his heart.
"It is so tragic that a man with a distinguished career behind him should be taken from us perhaps just a few weeks from retirement and all the expectations and plans that held."
Presbyterian Moderator Rev Roy Patton also took part in the service.
"I am confident that in offering our sympathy to you and assuring you of our prayers that I do so not only on behalf of the Presbyterian Church but of the whole community," he told mourners.
"We are together in this, totally united as churches, politicians, civic society, ordinary men and women who feel for you today in your unspeakable loss, and who in the strongest possible terms are outraged by such an evil deed.
"This attack on a prison officer was an attack on this whole community.
"As a whole community we respond, today, as we draw around this grieving and devastated family, as we assure all those who serve this community like David Black did, of our full and total support, as we work together for the good of all."
Honour guard
Mourners began arriving at the church at about 11:00 GMT.
A 20-strong honour guard of prison service staff in dress uniform formed up to accompany the cortege to the church.
Northern Ireland First Minister Peter Robinson was also at the church as were Ulster Unionist leader Mike Nesbitt and the leader of the SDLP (Social Democratic and Labour Party) Dr Alasdair McDonnell.
Northern Ireland Justice Minister David Ford also attended as did his counterpart in the Republic of Ireland Alan Shatter, as well as Secretary of State Theresa Villiers.
The Northern Ireland Assembly is suspended until 16:00 GMT because of the funeral.
Police sniffer dogs earlier searched around the church ahead of the funeral.
Dissident Irish republicans are being blamed for Mr Black's murder.
Three men arrested over it have been released without charge.
A Sinn Fein source told the BBC that Deputy First Minister Martin McGuinness had been very willing to go to Mr Black's family home in Cookstown and to attend the funeral.
However, he had been told the Black family did not wish to have any Sinn Fein representatives there.
The source said the deputy first minister respected the family's wishes.
The Orange Order, of which Mr Black was a member, tweeted: "The thoughts and prayers of the entire membership of the Orange Institution are today with Bro David Black's family."
At the same time as the funeral, a ceremony was held in Belfast in memory of Mr Black.
It started at 13:00 GMT outside the city hall and was organised by the Irish Congress of Trade Unions.
A lone piper played a lament as several hundred people people bowed their heads.
Visits to Maghaberry prison have also been cancelled on Tuesday because of the funeral.