Northern Whig bar apologises after poppy-wearer refused entry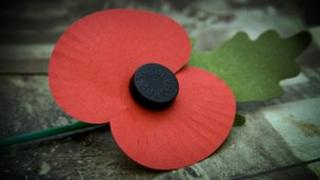 The owners of a Belfast pub have apologised after a former police officer wearing a poppy was refused entry to the premises.
Ted Cooke has said he will not be returning to the Northern Whig bar following Saturday's incident.
The Northern Whig has apologised and said all of its patrons were "more than welcome to wear a poppy" while visiting the premises.
Botanic Inns which owns the bar, said it was investigating the circumstances.
It said: "Northern Whig is dismayed by an incident on Saturday evening when a customer who was wearing a poppy was denied entry to the bar.
"Whilst Botanic Inns does not have a formal policy regarding the wearing of poppies it certainly has none that would preclude the wearing of same by either customers or staff.
"We are currently investigating the circumstances surrounding this incident and whilst not yet complete, we are confident that there was no malice aforethought with regard to what happened.
"The Northern Whig have already publicly apologised for any offence caused and Botanic Inns endorses that apology."
Mr Cooke told BBC Radio Ulster's Talkback programme, he was with his wife and daughter who were also wearing poppies, when he was refused entry.
He said he was "flabbergasted" at what had happened.
"I wear the poppy because I feel it symbolises the loss of life that has occurred over a lot of years and over different world wars and the distress that has been caused to families," he added.
"I have a friend whose son was killed in Afghanistan and I have seen the distress that that caused.
"I simply wear the poppy as a symbol of my support for those families, to me there is nothing political in a poppy.
"I will not be returning to the Northern Whig as it has left a bad taste in my mouth."