David Black murder: NI Assembly holds minute's silence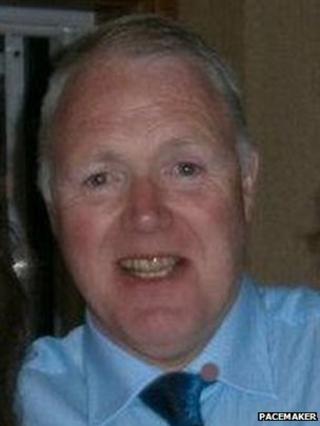 The Northern Ireland Assembly has observed a minute's silence in memory of murdered prison officer David Black.
The father of two was shot dead on the M1 in County Armagh on Thursday as he drove to work at Maghaberry Prison.
Mr Black, 52, from Cookstown, was the first prison officer to be murdered in Northern Ireland in almost 20 years.
First Minister Peter Robinson told the assembly on Monday that the murder would not cause the executive to fail, nor bring any change to prison regimes.
He called on the assembly to condemn the murder "with one voice" and to think of Mr Black's colleagues. He said those responsible for Mr Black's death would be "hunted down".
Caitriona Ruane, Sinn Fein, said it was "a pointless murder" which would achieve nothing.
Justice Minister David Ford said this was, first of all, a tragedy for David Black's family. He condemned the murder and said that the Irish President Michael D Higgins and the Irish justice minister had both given their condolences.
Ulster Unionist leader Mike Nesbitt said Mr Black's killers had "turned down the 14-year-old offer of inclusion".
"They've chose exclusion and have no place on this island," he said.
SDLP leader Alasdair McDonnell said the murder was "foul" and had achieved nothing.
"The perpetrators have excluded themselves from any hand in our own future," he said.
TUV leader Jim Allister said Mr Black was the target of a "dastardly IRA murder" following a "well-set Provo template" .
He questioned the description of the murder as futile, as he said those responsible conclude that current Stormont structures were built on "the reward and buy-off of terrorism".
Paul Givan, DUP, said that Mr Black had been due to take part in a Remembrance Day service on Friday.
He said Mr Black's widow called the murder "futile". And he added that the murder of prison officers was always wrong.
Mr Black's funeral is due to take place on Tuesday.
A Sinn Fein source told the BBC that Deputy First Minister Martin McGuinness had been very willing to go to Mr Black's family home in Cookstown and to attend the funeral.
However, he had been told that the Black family did not wish to have any Sinn Fein representatives present. The source said the deputy first minister respected the family's wishes.
Meanwhile, two men arrested in Lurgan in connection with murder on Friday have been released unconditionally.
A 29-year-old man arrested in the Irish Republic on Friday is still being questioned.