Rising to the occasion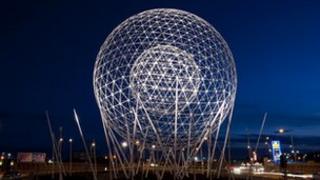 Rise, the biggest public artwork ever commissioned in Northern Ireland, has won its first international design award.
The two large globes on Broadway roundabout in west Belfast have a nickname.
Locals refer to them as "the balls on the Falls".
But the judges at the Structural Awards in London were more fulsome in their praise.
"Pure sculptural structures are amongst the most difficult to achieve successfully, as everything is on view, and will be scrutinised down to the finest detail," they said.
"It is therefore a real pleasure to find a creation such as this, which admirably projects the artist's original vision and at the same time celebrates the aesthetic beauty of pure, efficient structure for its own sake."
The 37.5 metre high sculpture was the brainchild of Nottingham artist Wolfgang Buttress.
It consists of two large globes cast in silver and white steel.
It won the Small Projects category at the annual awards, organised by the Institution of Structural Engineers, and presented in London at the weekend.
The Peace Bridge in Londonderry was also commended in its category.
Rise is a metre taller than the spires of nearby St Peter's Cathedral and three metres taller than the Albert Clock
It is also twice the height of Gateshead's Angel Of The North - and just 8.5 metres shorter than the Statue Of Liberty.
It weighs the equivalent of six double-decker buses.