Sinn Fein arrest 'through republicanism like bush fire'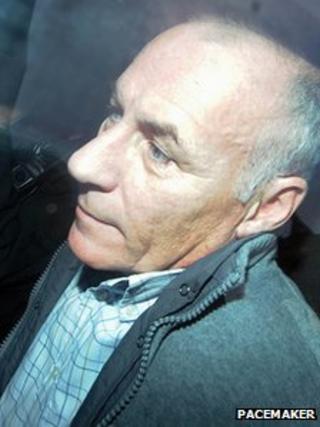 Sinn Fein's Gerry Kelly has called for the immediate release of Padraic Wilson, claiming his arrest is politically motivated.
Mr Wilson, a senior republican, is in custody after being charged with offences in relation to the murder of Robert McCartney in 2005.
Mr Kelly, said the arrest was political policing by some PSNI members and was undermining confidence in the police.
"This has gone through republicanism like a bush fire," he said.
"I can tell you frankly that many, many people have been in touch, from other colleagues, very angry about the idea that someone who was crucial to bringing people along in the peace process and political process is now behind bars where he should not be."
Mr Kelly said that the media should also be concerned at the arrest because under this legislation reporters could be charged for talking to illegal organisations.
He said a protest was being planned, and rejected suggestions his call as a member of the policing board was political interference in policing.
The SDLP's west Belfast MLA Alex Attwood said the party was trying to influence the justice system.
"In previous years, Sinn Fein complained of 'political influence' over the courts and of 'political policing'," he said.
"Today, in a brazen public way, Sinn Fein are at the same. People campaigned, worked and struggled to change 'the old order of things', for now Sinn Fein to recreate it, a modern version of the failed past, a renewed attempt to pressure politically the due process of law."
The DUP's Lord Morrow said: "Sinn Fein's stance on this serious matter does nothing to take Northern Ireland forward into a normal society despite their protestations that this is their aim and objective.
"They cannot expect to endear themselves to the Unionist community or portray a society of equals if they continue to practice a separatist agenda which applies only to their own ideals."
The Traditional Unionist Voice assembly member Jim Allister said plans for a protest were "unacceptable".
"It is hard to imagine a situation anywhere else in the western world where a party of government would take to the streets to demand the release of someone accused of serious terrorist offences," he said.
"Not only that but Wilson continues to hold a senior post within the party."
Padraic Wilson, 53, was a key negotiator in the Maze Prison in the late 1990s. He is Sinn Fein's director of international affairs.
He has been charged with IRA membership and addressing a meeting to encourage support for the IRA, which he denies.
Mr McCartney, 33, was stabbed to death outside Magennis's bar in Belfast.