Scrabble: Belfastman Paul Gallen wins UK title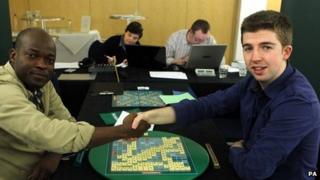 A Belfastman has become the first person living outside England to be crowned UK National Scrabble champion.
Paul Gallen, 26, beat Liverpool accountant Olawale Fashina, 43, in the final in London.
He used high scoring words such as "neonates" - newborn children or other mammals - which was worth 71 points and gave him a 100-point lead.
It is the fifth time he has beaten Mr Fashina, who won back in 2005.
The solicitor collected £2,500 for his efforts and is expected to spend the money on a trip abroad.
'Bit of trouble'
Mr Gallen first started to take the game seriously after being crowned 'champion of champions' on the Channel Four television show Countdown in 2006.
He said he had been uncertain of his win in what had been a closely-contested challenge.
"My opponent won the first game so I thought I was in a bit of trouble," he said.
"I kind of just looked at how he played and knew there was not much I could do if I made a mistake."
He said Mr Fashina was playing for 50-point bonuses by getting seven- or eight-letter words whereas he was trying to play more consistently by scoring 30 points.
"Wale is a very nice guy. I've got a lot of time for him and he was very gracious in defeat," he said. "Today was enjoyable but also stressful."
He added that he enjoyed playing scrabble because of the combination of English and maths skills needed.
Mr Gallen, whose father flew from Belfast to support him, added: "I'm delighted. It's not really sunk in yet."