Campaign to tackle Northern Ireland farm accidents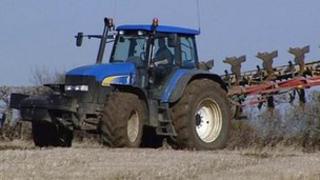 A campaign aimed at cutting the number of accidents on farms has been launched by the Health and Safety Executive of Northern Ireland (HSENI).
Since April 2007, 42 people in Northern Ireland have been killed as a direct result of agricultural activities.
Safety visits will be made to more than 1,000 farms by the HSENI between November and the end of March in a bid to address the rise in fatalities.
The main dangers are listed as slurry, animals, falls and equipment (SAFE).
Apart from the fatalities, the HSENI said, many more people have been seriously injured or made ill by work.
Slurry accounted for 15% of farm deaths since April 2007.
Other accidents have been caused by animals, 27%; falls 27%; and equipment, including vehicles, 27%.
The youngest victim was aged eight and the oldest 84.
More than a quarter of the victims, 15, were in their 60s. Almost three-quarters of those killed, 30, were aged 50 and older.
Counnty Tyrone, with 16 deaths, was the most dangerous county for farmers.
HSENI inspectors will provide information packs to farmers and their families to help ensure their safety when carrying out everyday tasks.
The scheme is supported by the Ulster Farmers' Union and the Department of Agriculture and Rural Development.
Irish international rugby brothers Rory and Simon Best are both working farmers and they have thrown their weight behind the scheme.
Simon Best said help was available to farmers and they should avail of it.
"As a working farmer myself, I recognise the difficult circumstances and challenges involved in getting on with the job, so I'm pleased to be able to support HSENI in its efforts to ramp up the farm safety message," he said.
"Too many lives are being lost in the industry and too many farmers are being injured or rendered disabled because of a failure to heed the warnings that are being given.
"These farm visits represent an important opportunity for the farming community to revisit the advice being given, to ask questions if they need to, and seek further information if they feel it necessary.
George Lucas, chairman of the Farm Safety Partnership, said: "This initiative could not be more important. Within the last 10 days, I was deeply shocked to hear of yet another farm fatality - this time in Dungannon.
"For the sake of this hardworking man and his family, and all the farming community, let's pull together to ensure that this does not happen again."