Titanic Quarter property company in £20m loss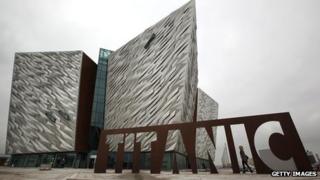 The property company developing the Titanic Quarter in Belfast made a £20m pre-tax loss in 2011.
The details are contained in the accounts of Titanic Island.
Much of the loss is attributed to a one-off payment of £13m to the charitable trust that owns the Titanic Belfast visitor attraction.
The directors of Titanic Island state that the opening of the attraction earlier this year was a "tipping point" for the whole development.
They add that the past year has been "arguably the most significant" in terms of progress made at the 185-acre development and "the pieces are in place" to make the area one of the most important commercial hubs in Ireland.
Group turnover was £43m, down from £61m in 2010 while administrative expenses jumped from £7m to £19m.
A £6m write-down in the value of investment properties meant that total after tax losses were £22m.
Restructuring
The loss meant that shareholders funds fell from £30m to £8m.
At the time the accounts were filed, £75m of Ulster Bank loans had expired and the directors said they were engaging with the bank with a view to restructuring the loans over the medium term.
The bank was continuing to make the existing loan facility available while those talks continued.
A note in the accounts from the firm's auditors said the ability of Titanic Island to continue as a going concern is dependent on the continuing support of Ulster Bank.
There is nothing to suggest that Ulster Bank will not continue to support the firm.
Titanic Island is ultimately owned by Titanic Investments, a Jersey-registered firm controlled by Donegal developer Pat Doherty and billionaire financier Dermot Desmond.
A company owned by Mr Desmond, Entice Holdings, has loaned £20m to Titanic Island while companies owned by Mr Doherty have loaned it £22m.