Memorial service held for Comber soldier Channing Day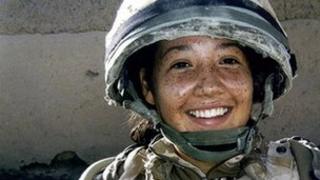 Several hundred people have attended a memorial service for the Comber soldier killed in Afghanistan last week.
Corporal Channing Day was shot while on patrol in Helmand Province. She was the third British woman to have died while serving in Afghanistan since 2001.
The service, held on the town's square, was attended by her family, civic leaders and people from the area.
Walter Lindsay, president of Comber British Legion, said they organised the event as a mark of respect.
During the service wreaths were laid in her honour as members of the community, politicians and church leaders comforted Cpl Day's family and friends.
Afterwards many of the crowd queued up at nearby St Mary's Church to sign the books of condolence.
Cpl Day, 25, of 3 Medical Regiment and Royal Marine Cpl David O'Connor were fatally injured in a gun battle.
The soldiers were in a fire-fight while on patrol. An Afghan man, thought to be an off-duty policeman, also died.
Cpl Day joined the Army in 2005 and was deployed to Afghanistan on 2 October.