Orange Order halls in fire service investigations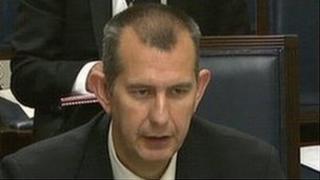 A new investigation into the Northern Ireland Fire and Rescue service is focussing on the alleged use of fire service property in Orange halls.
Investigators are examining the alleged use of materials, including wood, in several Orange Halls.
The materials were originally bought to be used to train firefighters.
The BBC understands chipboard may have been used for both heating and laying floors in several premises.
Log books belonging to fire service vehicles have also been sought, along with mileage sheets and fuel expenses.
At least one senior unionist has raised concerns about how these recent allegations could tarnish the Orange Order.
The Orange Order is the largest Protestant organisation in Northern Ireland. Members belong to lodges and hold parades to show their allegiance to the UK Crown and Protestant beliefs.
Orange halls are the location for meetings of Orange lodges, but also function as community halls, hosting groups like credit unions, bands and other cultural groups.
Health Minister Edwin Poots told the assembly on Thursday that a new investigation was under way following allegations of potential fraud, theft and other irregularities, some recent and some dating back over many years.
"I want to assure the assembly that where appropriate, all material allegations and any others that may come to light over the weeks and months ahead will be investigated rigorously and proportionately, to ensure that our commitment to restoring full public confidence in NIFRS is fulfilled," he said.
He has asked a senior civil servant to examine specific allegations.
Two damning reports into irregularities at the service were published last month.