Prison officer security call after David Black's murder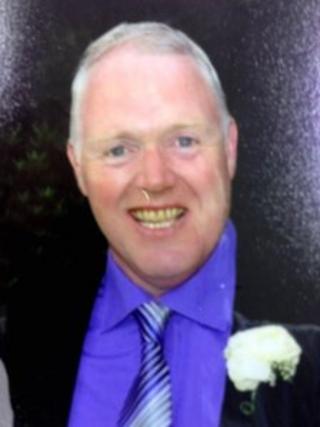 The safety of Northern Ireland prison officers is under scrutiny following the murder of their colleague David Black.
Mr Black was attacked on the M1 motorway in County Armagh as he drove to work on Thursday.
The 52-year-old's car veered into a ditch after a number of shots were fired at it and he died at the scene.
Two men have been arrested and taken to Antrim police station for questioning.
A colleague of Mr Black has told the BBC that every officer now fears for their life.
The officer, who is retiring at the end of this month, also criticised the NIO over a letter telling him to hand in his personal weapon and body armour.
"Everybody that's going at the end of November got the same letter telling you to hand your personal protection in," the prison officer said.
While the prison service say that is standard procedure, the officer, who does not wish to be identified, said he and his colleagues feel abandoned.
"It seems there is still an element out there that are very happy to murder us if they get the opportunity," he told BBC Newsline's Gordon Adair.
"They talk about degrees of threat to prison officers. We're all under threat. As far as I'm led to believe David Black had no particular threat out on him, but he was targeted basically because he was a soft target.
"He was an easy hit for them, they'll not try the hard thing, they'll always do the easy thing."
The officer said he now feared for his life and did not believe the Northern Ireland Office was taking the danger seriously.
"I'm retiring at the end of November and I received a letter telling me to hand in my personal protection weapon.
"We also have to hand in our body armour, which just beggars belief. They think you just walk out of a job and it's all over."
'Absolute gentleman'
The officer said a more sensible approach would be to allow retirees to keep their protection equipment for a few years until they had dropped "below the radar" and were no longer considered a target.
But, according to Mr Black's colleague even that measure would not be all that was required, because Northern Ireland is such a small place and a former prison worker can easily be recognised.
"The PSNI's coming out with statements like 'you're not a target'; everybody's a target in the prison service, as in the PSNI and something has to be done about it.
"If a personal protection weapon gives you a one in a hundred chance of surviving an attempt on your life then it's worth having."
The officer worked with Mr Black and spoke fondly of him.
"He was a lovely, lovely, person an absolute gentleman. Always had a smile for you," he said.
"There isn't a word to describe these animals that did this to the poor man.
"He was fair with everybody, he was always very level, a very competent officer and an absolute professional at his job.
He said those who had carried out the attack were cowards.
"There's nothing brave about driving up beside somebody and riddling their car with bullets, there's nothing brave about that."