Philip Strickland murder accused 'helped gun search'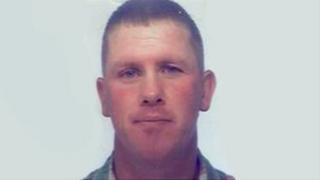 A suspect in the killing of a man shot dead in a car, tried to help detectives find the murder weapon, the High Court has heard.
Stephen McCaughey told police where he believed the sawn-off shotgun used to kill Philip Strickland could be located, it was revealed.
The 36-year-old victim was killed on a country road near Comber in January.
Mr McCaughey, 24, of Shackleton Walk, Newtownards, is one of four men charged with Mr Strickland's murder.
As he applied for bail, a defence barrister said he gave police a detailed account of being at the scene at the request of a co-accused.
Tom McCreanor told the court his client had been informed there was the potential for "a bit of a scuffle".
He said: "It is not part of the police case that Mr McCaughey was the gunman."
Although the shotgun has never been found, it was disclosed that the accused supplied information of a possible location.
"Through his legal advisers Mr McCaughey was invited to attend at the scene with the police," Mr McCreanor said.
"He did so, he endeavoured to assist and the gun wasn't located."
The judge said Mr McCaughey seemed prepared to put himself potentially at greater risk in order to obtain bail.
But Mr Justice Horner refused to release him based on allegations that he put pressure on his mother's partner to provide him with an alibi after the killing.
He said: "I cannot in those circumstances rule out the possibility, in fact I consider there is a real risk, that in order to exculpate himself or minimise his involvement he will do the same thing again if he is on bail."