Robert McCartney murder: Padraic Wilson remanded in custody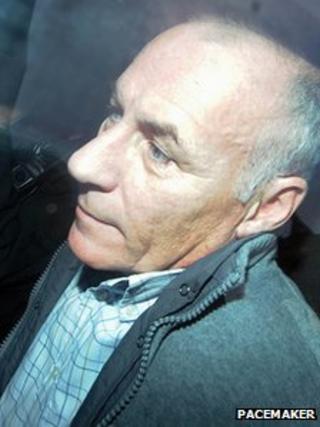 A leading republican has been remanded in custody after being charged with offences in relation to the murder of Robert McCartney in 2005.
Padraic Wilson, 53, was a key negotiator in the Maze Prison in the late 1990s.
He has been charged with IRA membership and addressing a meeting to encourage support for the IRA, which he denies.
Mr McCartney, 33, was stabbed to death outside Magennis's bar in Belfast.
A detective told Belfast Magistrates' Court on Friday that although Mr Wilson is not charged directly in connection with the murder of Mr McCartney, the charges relate to an internal investigation by the IRA following the murder.
He said six witness statements had been received from Mr McCartney's sisters and former partner accusing him of involvement in an IRA internal investigation following the murder of Mr McCartney.
Recognised
The detective said: "It is alleged that Mr Wilson and an unidentified person met with the family in their capacity as members of the IRA and as representatives of the army council of the IRA.
"That role was carrying out an internal investigation into the murder.
"It is alleged that at least two meetings were held with members of the family and Mr Wilson."
The detective said the McCartney family were able to identify Mr Wilson recently through internet research and recognised him as he person who took the lead in addressing the meetings.
Mr Wilson's lawyer, Peter Madden, said his client denied admitting he was in the IRA and said it was his word against the McCartneys.
"Rather than Mr Wilson being involved in the murder it is the direct opposite of that.
"It is very clear that Robert McCartney's sisters have made statements saying Mr Wilson said a certain thing, saying he was a member of the IRA," he said.
"It is a rare situation when somebody is actually charged with membership of the IRA by a witness or witnesses who say he was a member. I have never come across that before.
"There are certain proofs for membership of illegal organisations and that is not one of them."
'Serious situation'
The magistrate said her concern was that Mr Wilson could interfere with witnesses which include Mr McCartney's sisters.
Mr Wilson was remanded in custody for four weeks.
In a press release, Sinn Féin MLA Gerry Kelly demanded the immediate release of Mr Wilson.
"This charge is bizarre." he said.
"It is my firm view that these charges are politically motivated and driven by an old agenda within the PSNI fighting against policing change.
"This is a very serious situation and these charges need to be dropped and Padraic Wilson needs to be released immediately.
"Sinn Féin will continue to support Padraic and his family until this political charade is brought to an end."
However, the SDLP's Conall McDevitt said: "It is worth noting that today's events arose from the McCartney family bringing new information to the PSNI.
"It is the right of any victim to seek justice and to bring forward information."
High-profile campaign
Mr McCartney's murder had major repercussions for Sinn Féin which, at the time, was involved in delicate political negotiations aimed at securing its support for the police.
Within hours of Mr McCartney's death, it was claimed that IRA members had been involved after a fight - a claim rejected by Sinn Féin.
Mr McCartney's family accused republicans of covering up what happened, and threatening witnesses. His sisters accused Sinn Féin and the IRA of obstructing efforts to bring their brother's killers to justice.
They mounted a high-profile campaign that took them from the streets of the working class nationalist Short Strand area of Belfast to the White House, and even to Sinn Féin's ard fheis in Dublin.
The IRA said it had expelled three members over the murder and Sinn Féin subsequently suspended seven of its members.
In 2008, Terence Davison, 51, was acquitted of Mr McCartney's murder and two other men were cleared of charges connected to the killing.