Education Maintenance Allowance (EMA): consultation on cuts due to end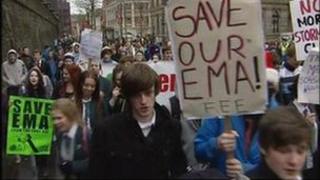 A public consultation on plans to cut payments given to teenagers in Northern Ireland to encourage them to stay in education is due to end on Friday.
The Education Maintenance Allowance (EMA) was introduced in 2004.
It offers up to £30 a week to pupils from low income families and currently costs the public purse £29m a year.
The government's proposals to revamp EMA includes five options, all of which make cuts or restrict the number of students allowed to claim the money.
Under the current scheme, qualifying students aged from 16 to 19 receive payments of either £10, £20 or £30 a week.
Twenty five thousand teenagers, a quarter of the age group, currently claim the EMA in Northern Ireland.
Some are also entitled to bonuses for finishing their courses in school or further education college.
However, research has shown the money is a deciding factor for only a third of students.
All five of the proposals in the public consultation remove the lower payments and some would also reduce the higher payment and bonuses.
Scotland and Wales have already made similar changes and England has completely scrapped the allowances.
The Westminster government had argued the scheme was too expensive and poorly targeted.
The public consultation on the future of the EMA scheme in Northern Ireland was jointly published by Stormont's Department for Employment and Learning (DEL) and the Department of Education.
It opened in July and will close at 17:00 GMT on Friday.