Caroline Graham search: Police suspend Portadown search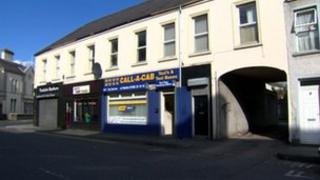 The search for the body of a teenager who went missing in Country Armagh 23 years ago has been suspended.
Caroline Graham was living in Portadown when she disappeared in April 1989.
The search was conducted in the Carleton Street area of the town for the remains of 19-year-old Caroline, who lived in nearby Hanover Street with her boyfriend.
Areas of wasteground and parts of premises, including a well, have been searched.
Police say they do not believe the current occupants of the buildings have any knowledge of the events of 1989.
A range of specialist resources has been used including body recovery dogs, probes, scanners, structural engineers and an underwater search team.
Detective Chief Inspector Gary Crawford, said: "We believe there is more than one person who knows exactly where Caroline is buried.
"They are holding a very dark secret. We need them to come forward and tell us exactly what they know.
"Whoever is responsible for Caroline's murder has spoken to people and they know exactly what has happened to Caroline."
"We really need to know what building work was being done in April 1989 in Carleton Street," he added.
"We believe Caroline's body was dumped in an existing hole, that it was covered over and possibly later topped with concrete.
"Even if you think that what you know is only rumour or chat, we need to hear it. Please don't assume that police know. Don't think your information is not relevant or significant - it might be. Let us decide."