Edwin Poots announces new investigation into fire service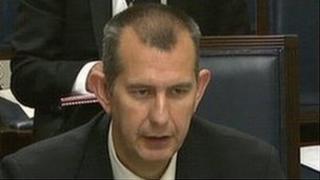 Health Minister Edwin Poots has announced another investigation into the Northern Ireland fire service after he received fresh allegations of potential fraud and theft.
Two damning reports into irregularities at the service were published last month.
Mr Poots said a a number of further allegations have been sent to him since then.
He has asked a senior civil servant to examine specific allegations.
He described the allegations as "some recent and some dating back over many years."
The BBC understands that some of the allegations relate to the misuse of wood materials bought in for training.
Jim Wallace, chief executive of the fire and rescue service said: "It is disappointing that further allegations have been made against the service.
"The minister, the Assembly and the public can be assured that we will leave no stone unturned in our mission to fundamentally transform the way we work to achieve the highest standards of leadership, management, accountability and governance within our organisation.
"That improvement work has already been underway for some time now.
"We remain unequivocally committed to openness, honesty and integrity in everything we do and fully support the robust investigation of any allegation made and any action which may need to be taken."