Liam Neeson to receive Freedom of the Borough award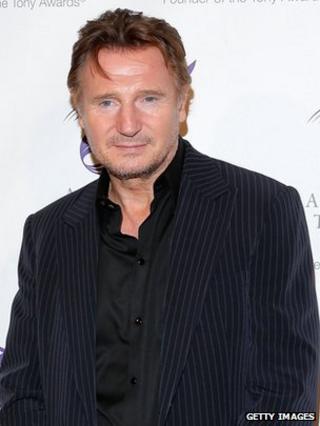 Ballymena actor Liam Neeson is set to receive the freedom of his home town.
The Oscar-nominated actor is best known for his starring roles in the Star Wars film The Phantom Menace, Schindler's List and Michael Collins.
Mayor of Ballymena PJ McAvoy will propose that Neeson is offered the Freedom of the Borough at a council meeting on 5 November.
It is the highest accolade the council can give.
Mr McAvoy's SDLP colleague councillor Declan O'Loan said he expected that it would receive cross-party support.
"It is entirely appropriate that this award is made to Liam Neeson," he said.
"He is a very distinguished son of Ballymena and is identified with the town in a way no other prominent individual is.
"This award is a reflection of how widely regarded and well-known he is."
It is not the first time Ballymena council has planned to grant the actor the honour.
In 2000, Democratic Unionist Party councillors objected to the proposal because of alleged derogatory remarks Neeson made about his experiences growing up in the County Antrim town.
At the time, Neeson was quoted as saying in an American magazine that he felt "second class" as a Catholic growing up in the mainly Protestant town and felt he had to stay indoors during the loyalist 12 July commemoration of the Battle of the Boyne.
Following the controversy, Neeson wrote a letter to the council.
It said: "I will always remain very proud of my upbringing in, and association with, the town and my country of birth, which I will continue to promote at every opportunity.
"Indeed I regard the enduring support over the years from all sections of the community in Ballymena as being more than sufficient recognition for any success which I may have achieved as an actor."