Former billionaire Sean Quinn begins nine-week jail term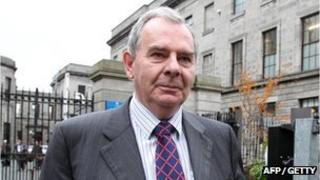 Sean Quinn has been taken to prison to begin a nine-week sentence for contempt of court.
He was taken from Dublin High Court in a police van to begin the term handed down earlier on Friday.
Lawyers for Quinn told the court that he had chosen not to apply for stay on the prison sentence.
The 66-year-old former billionaire, once Ireland's richest man, will be due for release on January 4.
He asked the court for compassionate leave in December to attend the christening of one of his grandchildren.
Ms Justice Elizabeth Dunne said the request was a matter for the prison authorities.
Before he was led away Quinn said he was 'never one to walk away from a decision, I've always been a proactive person, I may as well be getting on with it."
He described the legal battle with IBRC, the former Anglo Irish Bank, as a 'charade'.
"They took all my money, my company, put my son in jail, put me in jail and they have proven nothing'"
Addressing reporters, he said: "You people have bought their story and sold it on to the Irish people."
Sean Quinn was asked if he was looking forward to spending Christmas in prison.
"If you have a wife and five children and grandchildren you don't need to ask that," he replied.
The bankrupt former billionaire and his family have been embroiled in a high-profile legal battle with the bank, which was bailed out by taxpayers.
In making her decision to jail him, Ms Justice Elizabeth Dunne referred to the three findings of contempt against the 66-year-old at the same court in July, and her rejection of his evidence in the contempt hearing as 'not credible, evasive and unco-operative'.
The judge said she had noted the "impassioned plea" not to jail the businessman, made by lawyers for Mr Quinn on Thursday, and the negative impact the case has had on his family.
"In my view he has only himself to blame" she said.
Sean Quinn was sitting amongst a group of his supporters as the ruling was being read out, his son Sean Quinn Jnr and son-in-law Niall McPartland were also in court this morning.
The Supreme Court last month dismissed an appeal by Sean Quinn jr against his three-month sentence for contempt of court.
Anglo Irish bank was nationalised in 2009 and its affairs were taken over by the Irish Banking Resolution Corporation (IBRC).
The IBRC claims the Quinn family owes it more than two billion euros and is trying to recover the money from their assets.
Lawyers for the IBRC alleged that members of the Quinn family have tried to strip assets from their firms, putting property worth millions of pounds beyond the reach of the bank, in defiance of a court order.
In July, Dublin High Court ruled that Sean Quinn, his son Sean Quinn Jr and his nephew, Peter Darragh Quinn, were in contempt of that court order.
At the time, Sean Quinn Jr was sent to jail for three months, while his father was spared prison to allow him to co-operate with the IBRC.
Peter Quinn did not show up for the sentencing in July and a warrant for his arrest was issued.
However, he has remained in Northern Ireland, outside the court's jurisdiction.
Sean Quinn Jr was released from jail two weeks ago, having served three months in Dublin's Mountjoy Prison.
Sean Quinn Sr is a farmer's son who left school at 14 and built a global business empire from humble beginnings in rural County Fermanagh.
As a young man, he borrowed £100 to start a business selling gravel quarried from his family's farm in Derrylin.
The Quinn Group gradually expanded, supplying other building products, glass and plastics, and eventually moved into insurance, hotels and property development.
At the height of his success, the border billionaire was the richest man in Ireland and the 12th wealthiest in the UK.
He employed more than 8,000 people worldwide, but the majority of the jobs were based near his home, bringing much needed employment to the border counties of Fermanagh and Cavan.
His family firms were badly affected by the property market crash and Quinn Insurance was put into administration in April 2010.
Exactly a year later, Sean Quinn Sr lost control of his entire business empire when it passed into the hands of the IBRC.
In November 2011, he declared himself bankrupt in a Belfast court, making him the biggest bankrupt in UK history.
There are significant differences between bankruptcy rules in the UK and the Republic of Ireland, where the punishment is more onerous.
By declaring himself bankrupt in Northern Ireland, it meant he would only have to wait a year before going back into business - rather than 12 years in the Republic.
At the time, Mr Quinn said he brought the application north of the border because he was born, reared and had worked all his life in County Fermanagh.
However, the IBRC challenged the ruling and succeeded in having Mr Quinn's bankruptcy status in Northern Ireland annulled.
In January 2012, the businessman was declared bankrupt in the Republic of Ireland.
Mr Quinn accused the IBRC of wrecking his company and pursuing a "vendetta" against him and his family.