Sean Quinn case is adjourned at Dublin's High Court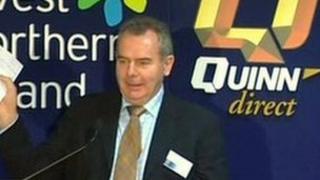 A hearing to decide whether Sean Quinn and his son have complied with court orders in their ongoing legal battle with an Irish bank has been adjourned.
Ms Justice Elizabeth Dunne said she wanted to consider submissions made by IBRC, the former Anglo Irish Bank and Sean Quinn, once Ireland's richest man.
Mr Quinn's lawyers earlier appealed to the court not to jail him for contempt.
Eugene Grant QC said Mr Quinn said it was his 'impassioned plea' to the court not to jail the 66-year-old.
"This man is bankrupted, forlorn, looking back at a starry career in the context of serious medical problems."
"It is important to stress he is 66 years of age with a totally clear and unblemished record," he said and went on to describe Mr Quinn as 'one of Fermanagh's finest'.
"A man who, until these affairs with Anglo, stood tall as a leading light in the Celtic Tiger."
'Poor chance'
Eugene Grant QC said that Mr Quinn believes that IBRC are guilty of a grave injustice and that he was 'fraudulently induced' to borrow money to prop up the Anglo share price.
Mr Quinn admits taking part in an asset stripping scheme but denies breaching court orders and he is appealing to the Supreme Court the findings of contempt against him.
Lawyers for IBRC told the court details of an asset recovery agency they have employed to help recover Quinn property assets in Russia and Ukraine.
An affidavit by IBRC executive Richard Woodhouse, submitted to court, revealed the 'poor' chances of the bank recovering up to 500 million euros worth of overseas properties.
The bank said it was approaching "end point" in terms of recovering the assets.
Shane Murphy SC, for IBRC, told the court the bank continues to be met with 'fraudulent activity and delay' which the bank claims is orchestrated by the Quinn family to prevent it recovering assets in companies based in Russia, Ukraine and India.
Mr Murphy said the 'core issue' of the hearing was this was a serious contempt with the object of putting assets beyond the reach of IBRC and the evidence was Mr Quinn had not purged that contempt.
"This is a case of civil contempt not criminal contempt' he said, adding that the court was confronted with the decision whether or not 'certain consequences' should follow.
Ms Justice Elizabeth Dunne will rule on Friday 2 November on whether to impose a punitive sanction on the 66-year-old businessman.