Schmallenberg Virus: First case in Northern Ireland confirmed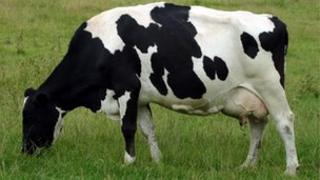 Schmallenberg Virus - a disease which can cause fever and birth defects in farm animals - has been detected in Northern Ireland for the first time.
It follows tests carried out on a malformed calf from a farm near Banbridge in County Down.
The Department of Agriculture and Rural Development (DARD) said the results confirmed the presence of the virus.
The disease does not pose a risk to human health or food safety, but it can reduce milk yield in cattle.
It is thought to be spread by midges and can lead to birth deformities in newborn lambs and calves, while older livestock sometimes show symptoms of fever and diarrhoea.
Schmallenberg Virus is named after the German town where it was first identified last year.
The first case on the island of Ireland was reported in Cork on Tuesday.
In a statement on Wednesday evening, Stormont's Agriculture Minister, Michelle O'Neill, said: "These developments are unsurprising, given the rapid spread of the virus across northern Europe and large parts of Britain since it was first identified in late 2011.
"While Schmallenberg Virus is recognised as a low impact disease, I appreciate the distress that it causes at an individual farm level.
"Any losses as a result of this disease are regrettable. I would encourage farmers if they suspect presence of the disease to contact their veterinary practitioner."
In Northern Ireland, testing for Schmallenberg Virus is carried out by the the Agri-Food and Bio-Sciences Institute (AFBI).