New 'world-leading' centre for experimental medicine set for Belfast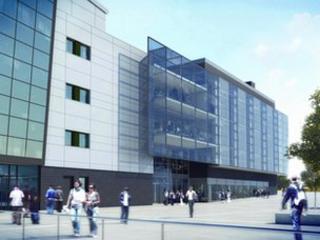 Queen's University Belfast (QUB) has secured £32m in funding to help establish a "world-leading Centre for Experimental Medicine" in Northern Ireland.
The new centre will specialise in scientific research, with the aim of finding cures for eye disease, diabetes and genetic illnesses.
Almost half of the funding (£15m) was donated by The Atlantic Philanthropies, the largest gift QUB has ever received.
The new centre is due to open in 2016.
'Global leader'
QUB Vice-Chancellor, Professor Sir Peter Gregson, said the university was celebrating the announcement but added the people of Northern Ireland would be "the real winners" as, through the work of the centre, they would benefit from "improved diagnosis and treatments of debilitating diseases".
In a statement, he said: "Queen's University is well advanced in creating an internationally recognised Institute of Health Sciences that will become a global leader in medical research and education.
"This will be further enhanced through the creation of the Centre for Experimental Medicine, a centre that will transform healthcare in Northern Ireland and beyond."
"This exciting new development has been made possible through generous philanthropic support with leveraged investment through the UK Research Partnership Infrastructure Fund."
The other funders who have contributed to the project are The Wellcome Trust, The Wolfson Foundation, The Sir Jules Thorn Charitable Trust, Insight Trust for the Visually Impaired and The Queen's University of Belfast Foundation.
'Opportunities'
The largest donor, The Atlantic Philanthropies, is a global organisation founded by the Irish-American billionaire, Chuck Feeney.
Mr Feeney, now in his 80s, is a well-known philanthropist who traces his Irish ancestry to County Fermanagh.
Professor Patrick Johnston from QUB said the new centre would help to "stimulate additional investment, lead to further global collaborations and create more opportunities for new health and biotech companies" in Northern Ireland.
Prof Johnston is the university's Dean of Medicine, Dentistry and Biomedical Sciences.
He said the development would "help provide a synergy between clinicians and scientists, ensuring that laboratory discoveries translate into advances in patient diagnosis and treatment".