Joby Murphy inquest: drink and cold weather had role in death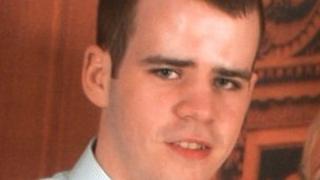 An inquest into the death of Joby Murphy, who drowned in the River Lagan in January, has found that he did not intend to take his own life.
Mr Murphy, 20, was nearly four times over the legal driving limit at the time of his death.
He had been enjoying a night out. The inquest heard that alcohol and cold weather played a role in his death.
Coroner John Leckey said he agreed with Joby's father that a cheap drinks promotion played a significant part.
Joby went missing after a Snow Patrol concert in Belfast on 25 January.
It is thought he walked across the bridge at the Lagan Weir later that night and fell in.
After extensive searches, his body was found and returned to his family four weeks after he had disappeared.
Following his death, the Joby Murphy Trust was set up.
Family and friends raised £41,000 to buy specialist sonar equipment for use by the Community Rescue Team in Northern Ireland.