Robert McCartney murder: 53-year-old man questioned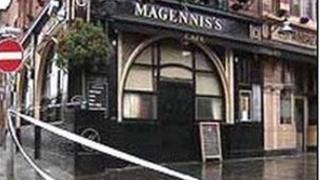 A 53-year-old man has been arrested in connection with the murder of Robert McCartney in 2005.
He has been taken to Antrim police station for questioning.
Mr McCartney, 33, a father of two from the Short Strand in Belfast, was stabbed to death outside Magennis's bar in Belfast on 30 January.
The murder had major repercussions for Sinn Féin which was involved in delicate political negotiations aimed at securing its support for the police.
Within hours of Mr McCartney's death, it was claimed that IRA members had been involved after a fight - a claim rejected by Sinn Féin.
Robert McCartney's family accused republicans of covering up what happened, and threatening witnesses. His sisters accused Sinn Féin and the IRA of obstructing efforts to bring their brother's killers to justice.
They mounted a high-profile campaign that took them from the streets of the working class nationalist Short Strand to the White House, and even to Sinn Féin's ard fheis in Dublin.
The IRA expelled three members over the murder and Sinn Féin subsequently suspended seven of its members.
In 2008, Terence Davison, 51, was acquitted of Mr McCartney's murder and two other men were cleared of charges connected to the killing.