Dr Ryan Donnelly wins award for micro-needle 'painless injection' research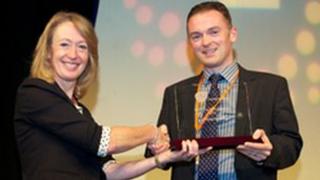 A Queen's University scientist has won an award for research which could help take the sting out of injections.
Dr Ryan Donnelly has been recognised for a breakthrough on micro-needles, tiny projections which can painlessly penetrate the outer layer of the skin.
They are applied as a skin patch and can be used to deliver medication or to monitor the level of drugs in a patient's body without drawing blood.
He was named as the GlaxoSmithKline Emerging Scientist of 2012.
Research groups around the world are trying to find new ways of taking the pain out of injections.
Micro-needle technology has been in development for a number of years now, but there are concerns over possible infection and whether or not the tiny needles could be safely removed from the human body.
The Queen's scientist has made advancements in the production and practicalities of micro-needle patches. The researchers say patients could benefit from the system in about five years if clinical trials are successful.
Major benefits
Dr Donnelly has been working on micro-needle technology since 2005, supported by a team of researchers at the Belfast university.
He described the product they have been developing as a patch "around about the size of a postage stamp" which is applied to the skin "just like a conventional plaster".
He said that on the surface of the patch were tiny projections which "painlessly penetrate the outer barrier of the skin without causing any bleeding or risk of infection".
"Once the micro-needles are in the skin they will rapidly take up fluid from the skin and they will form a pathway between the external environment and the blood supply in the skin," he said.
Dr Donnelly said one of the major benefits of micro-needles was that the levels of medication in a patient's body could be monitored using skin fluids rather than having to draw and test their blood.
"The concentration of a medicine in your fluid in your skin is in balance with that in your blood, so if you can monitor a patient in this way you can avoid having to take a blood sample," he said.
He said he hoped the technology could be used to help monitor medication levels in premature babies, which is notoriously difficult because they are so small and vulnerable.
"These children, clearly being so small, have very limited volumes of blood so this precludes frequent sampling," he added.
"It's also known that using needle and syringe-based methods for taking blood from these babies can cause severe scarring and bruising, and it causes a lot of trauma not only for the child but also for the parent."
First patent
The scientist acknowledged that micro-needle technology was not new but said his research team have now patented a production technique which has helped to make the patches safer and more practical.
"The first patent on micro-needles was actually filed in 1976 but it wasn't until the late 1990s that the technology actually existed to make micro-needles. This really evolved from advances in the micro-electronics industry where people were making more and more complex devices out of silicon," he said.
"It is known that silicon is not the most bio-compatible material, so if those micro-needles were to break off the in skin, we don't really know what would happen because there's no route for the body to eliminate them. So the next advancement was to make micro-needles from polymeric or plastic-type material."
The team at Queen's are making their micro-needle patches from the same material that is used help dental patients' dentures stick to their gums.
"What we've done is to process those adhesive materials into a form where they are hard in the dry state so they will penetrate the skin, but they have the capacity to take up the skin fluid without actually dissolving.
"This is important because our micro-needles can be removed from the skin completely intact, without depositing any of the plastic material behind, but they are then too soft to ever be inserted into another person. The risk of transmission of infection is greatly reduced as compared to a hypodermic needle," Dr Donnelly added.
'Unique'
He said the use of the hydro gel-type material was "a non-obvious step" in micro-needle research and had helped to attract interest from the pharmaceutical industry.
Companies working on vaccines and gene therapy have already been in touch with the team in Belfast and Dr Donnelly said it could also have implications for the cosmetics industry.
"The unique selling point of our micro-needles is that we can control the rate at which a medicine enters somebody's blood by altering the properties of our swelling system," he added.
"So, we can make it swell less to deliver a medicine quite slowly over a long period of time, or we can make it swell more to deliver a medicine very rapidly as in the case of say, insulin or a vaccine."
To date the Queen's University team have secured about £1.5m in funding to support their research into micro-needles.