Lee Smyth murder: Two charged over Armagh killing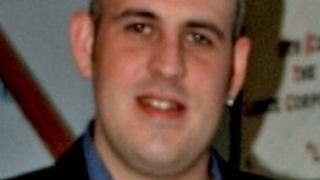 Two men have been charged with the murder of Lee Smyth, at Newry Magistrates' Court.
Michael Wilson, 22, Thornleigh, Armagh, and Gareth McKinney, 22, Cabragh Road, Armagh, were remanded in custody.
They are both due to appear in court again next month.
Mr Smyth, who was 32, was assaulted in a laneway beside a river at Ballinahone Avenue, Armagh, on 6 Sunday June, 2010.
He was in hospital for two years but never recovered. He died on Tuesday 12 June, 2012.
A detective told the court he could connect the accused to the crime.
He said it was a chance encounter between the accused and the victim that led to a serious form of assault.
He said there were four people present on the night, the two accused, the victim and Linzie Bell.
The court was told she is to be a key witness in the case.
A lawyer for Mr McKinney applied for bail.
It was refused on the grounds that he might abscond, commit further offences or interfere with witnesses.
The district judge Eamon King said the victim Lee Smyth had been on a life support machine since the attack and died when it was turned off in June of this year.