Thousands due at Derry Halloween parade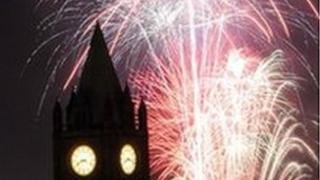 Thousands of people are expected in Londonderry later for the carnival parade and fireworks along the banks of the River Foyle.
Derry has experienced a huge growth in its Halloween festivities in recent years and 2012 promises to be as popular as ever.
Shops have reported a brisk trade all week with people buying costumes.
The city council has advised people coming into the city for the parade and fireworks to get there early.
"Get in early, during the day if you can, look at where you're going to park and prepare and plan for that," Jacqueline Whoriskey from the council said.
"There is going to be disruption to roads because of the carnival, so just make sure you're aware of all the detail and plan for it."
Among the highlights are The Dragon Safari at St Columb's Park transforming one of the city's best-loved outdoor spaces into a wildlife extravaganza.
There are witches and wizards at the Foyle Valley Railway Museum, ghostly tales in the Workhouse Museum, and a return visit by the continental market. St Columb's Hall will once again be transformed into a hall of horrors featuring storytelling and performances for kids.
Waterloo Place will become an outdoor cinema where a heated marquee has been set up with children's activities, and grass has been laid out to enhance the experience.
On Wednesday, a live music stage will be set up in Waterloo Place featuring performances from young up-and-coming bands across the city.
They include The Boat Club, Rodageddon, Seraphis and The Reverb.
The Banks of the Foyle Hallowe'en Carnival, starts from the council car park at 19:00 GMT.
The parade will travel along the Strand Road, turn left towards the City Hotel, around Harbour Square Roundabout and return to the council car park along Queen's Quay at approximately 19:45 GMT
The River Foyle will then become the perfect backdrop to the stunning annual fireworks display at 20:00 GMT and the partygoers can continue their celebrations at many of the city's venues and bars.