Monotype Imaging buys Design by Front for £3.2m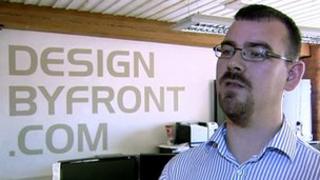 A Belfast design agency has been bought by a major US firm that specialises in font design.
Monotype Imaging will pay up to £3.2m to buy Design by Front which employs 14 people at its Ormeau Avenue studio.
Monotype has paid £1.6m in cash with the remainder dependent on performance targets.
The US firm was particularly interested in a Design by Front product called Typecast which makes it easier to create and manage fonts for webpages.
The chief executive of Monotype said that buying the Belfast firm would complement its existing products.
Doug Shaw said "The web has become a critical publishing platform, where brands need to represent themselves with clarity and consistency across connected devices.
"As a typographic design tool, we believe Typecast has the potential to take web fonts to a whole new level of productivity and creative expression."
Design By Front was founded over ten years ago and has worked for clients such the Abbey Theatre and the BBC.
Paul McKeever, managing director and co-founder said his team had originally created Typecast simply to make it easier to work on existing projects and the firm is now looking forward to bringing to the design community "a powerful application that's actually easy and fun to use."