Whooping cough cases 'highest in 20 years' says Public Health Agency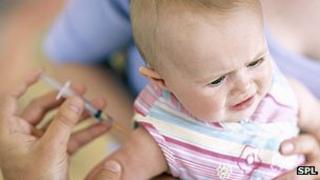 Whooping cough cases have risen significantly in Northern Ireland in recent months, according to new figures from the NI Public Health Agency (PHA).
There have been 221 confirmed cases recorded up until 30 September this year, compared to just 15 in the whole of 2011.
The PHA said 30 of this year's cases were confirmed in the last month alone.
It said the increase was in line with "sharp rises" in the UK as a whole, where cases are at a 20-year high.
The majority of those affected in Northern Ireland are children, accounting for 137 of the confirmed cases between January and the end of last month.
Vaccinations
Whooping cough, also known as pertussis, can be a very serious for young children, and sometimes the disease can even be fatal for babies under one year old.
The main symptoms are severe coughing fits which, in babies and children, are accompanied by the characteristic "whoop" sound as the child gasps for breath after coughing.
On Tuesday, the PHA urged pregnant women and the parents of young children to ensure their families' whooping cough vaccinations are fully up to date.
In a statement, the agency said: "The increase in whooping cough incidents is in line with England, Wales and Scotland, where cases of the disease reported to the Health Protection Agency (HPA) have also shown sharp rises.
"Increases in levels of the illness are seen every three to four years, however, the numbers this year are the highest for about 20 years."
Pregnant women
In response to the increase, Stormont's Health Minister, Edwin Poots, announced at the end of September that pregnant women in Northern Ireland would be offered the whooping cough vaccination to protect their newborn babies.
In the UK, babies are not usually vaccinated until they are at least two months old.
The PHA's consultant in health protection, Dr Richard Smithson, said: "Newborn babies are likely to have little or no protection against whooping cough until they have been fully vaccinated themselves.
"The vaccination of pregnant mothers will help to protect children from birth until they are old enough to be vaccinated themselves, as antibodies passed from the pregnant mother to her unborn child should provide some protection to the baby in the first few weeks of life."
The vaccines are being offered to expectant mothers who are 28 weeks pregnant or more.
The programme is being coordinated through GPs who will contact eligible women.