Katesbridge pensioner scared to sleep in house after attack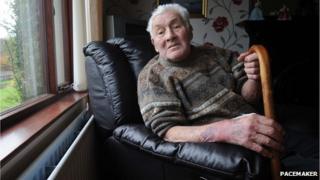 An 85-year-old County Down man tied up and robbed in the home he has lived in since 1970, has said he would be too scared to go back to sleep there.
Two men broke into George Burns' home on the Aughnacloy Road, Katesbridge, at about 21:00 GMT on Monday.
They stole money and three double-barrelled shotguns from a gun cabinet at his house.
Mr Burns said he was in his bedroom when he heard someone breaking through the front door.
"I came down to the door and I just met this fella who pushed me right up against the bed," the pensioner said.
"When I came back down again there was a boy standing there with a knife.
"What could I do? They pushed me down into the bed and tied my arm and I told them 'you're going to break my arm' but they never passed any remarks and that's all I said.
"They gave me a thumping around my arm and never touched my head or my face, just my hands and my arms."
Mr Burns has lived in his home for more than 40 years but said he would be afraid to go back there at night.
"I was frightened, I needn't tell you a lie. I'll never forget it," he said.
"I would go back in the daytime, but I don't think I would ever go to sleep in it at night, for I'd be expecting that again.
"I'll mind that as long as I'll live."