Northern Bank makes pre-tax loss of £71m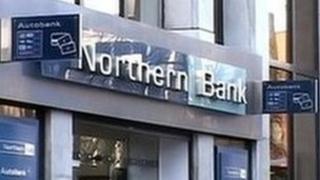 The Northern Bank has made a pre-tax loss so far this year of £71m.
The underlying performance of the bank was still making a profit, but it wrote off £120m because of bad loans in the first three quarters of the year.
The loans which have been written-off are mainly because of property re-valuation. The loss for the same period last year was £156m.
Northern Bank's Danish parent company, Danske Bank, has made a pre-tax profit of £676m so far this year.
'Worse situation'
Impairment charges in the Republic and Northern Ireland continue to be the biggest drag on the group's finances.
Northern Bank chief executive Gerry Mallon said: "We've got a worse economic situation, first of all in Northern Ireland, but even worse again in the Republic of Ireland.
"We're definitely in a worse position than Norway, Finland, Sweden - countries which have seen very little by way of recession".
There will be more bad loans to deal with over the coming year, but Mr Mallon described the economic environment in Northern Ireland as "fragile".
Despite this, he does think the bank's finances are heading in the right direction.
"Our forecast is for a return to profitability in 2014, and I think we're still sticking to that," he said.