Londonderry gets £500k for environmental improvements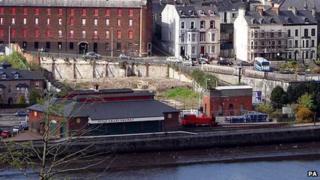 More than half a million pounds is to be invested in Londonderry to tackle dereliction in the run up to 2013.
The money, from the department of the environment, is for several projects including tidying the former Tillie and Henderson site.
Environmental works will also be carried out at the roundabout junction at Strand Road and Queen's Quay.
The environment minister Alex Attwood said the work would benefit tourism and boost the local economy.
"Derry City will be very much in the international spotlight next year as UK City of Culture.
"Over half a million pounds of funding will go a long way towards ridding the city of derelict eyesores.
"If we want tourists to stay longer, if we want more tourists to come, then tackling major eyesores and dereliction will certainly help.
"Only this week, Derry was named fourth best city in the world to visit in 2013 by the Lonely Planet Guide and initiatives like this all help to cement that position.
"Let's not forget that the citizens of Derry will also benefit with the character of their built environment improved.
"Some of the key elements of the spruce-up include the provision of £100,000 to tidy the disused Tillie and Henderson and Sinclair Shirt factory sites.
"Thousands more pounds will also be spent painting images of the Derry's cultural past and present on to hoardings screening vacant sites around the city."
The programme of events that was announced last week includes performances from the Royal Ballet, the London Symphony Orchestra and the first staging of the Turner Prize outside England.
Deputy mayor of Londonderry Mary Hamilton welcomed the latest cash injection.
"This grant provides the opportunity to target specific eyesores that exist with a number of prominent buildings and locations in the city centre that are either poorly presented or in need of an urgent facelift.
"The project will improve the visual character and quality of key streetscapes for the benefit of citizens and visitors as we elevate the profile of Derry during its year as City of Culture."
Londonderry beat competition from Birmingham, Norwich and Sheffield to win the title for 2013 UK City of Culture - the first time it has ever been awarded.