Dromore man charged over 'blue cheese' cannabis find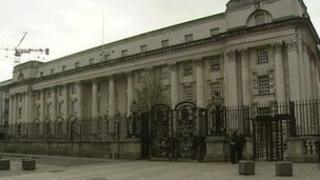 A haul of herbal cannabis seized from a County Londonderry attic could be worth £760,000, the High Court has been told.
Prosecutors said 38kgs of a strain known as "blue cheese" were found in a raid on a Magherafelt house last month.
Frankie Huang, of Meadowcroft, Dromore, County Tyrone, is accused of cultivating cannabis, having class B drugs with intent to supply and being concerned in their supply.
The 33-year-old takeaway owner's bail application was adjourned for a week.
The court heard electric fans and air fresheners had been operating in an attempt to disguise the smell inside the property at Leckagh Drive, Magherafelt.
Police also recovered £28,000 in cash from the car of Mr Huang who had arranged to rent the house, a judge was told.
As he applied for bail it was disclosed that the consignment was found laid out on a plastic shower curtain during the search on 11 September.
Kate McKay, prosecuting, said the drugs were initially estimated to be worth £380,000.
But she said the cannabis is now believed to be the blue cheese type, which costs around £20 a gram.
"The street value could be as much as £760,000," Mrs McKay told the court.
'Cash seized in car'
Mr Huang was said to have arranged the rental of the Leckagh Drive house and paid a cash deposit.
Police later seized two cars during a follow-up investigation at his home. One of the vehicles, an Audi, contained £28,000 in cash.
Mr Huang's barrister, Patrick O'Kane, said the accused claimed to know nothing about the money in his car.
Mr O'Kane also argued there was no evidence to show his client was involved in anything "at an organisational level".
He said Mr Huang had agreed to help a former employee rent out the house because the other man's English was so poor.
"The complexities of the world we live in are that the truth often doesn't sound plausible," Mr O'Kane said.
He argued that there was no risk of the accused fleeing if released, pointing to his 10 years spent in Northern Ireland and the two takeaway businesses he runs.
Mr Justice Treacy adjourned the bail application for a week to allow checks on proposed sureties.
He stressed: "I want to be satisfied that the money put forward... as far as police can establish it, is clean money."