Orange hall rates exemption saves Loyal Orders £4.6m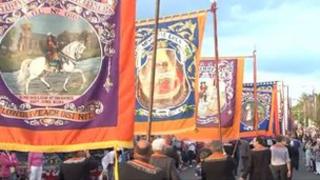 A rates exemption for Orange halls in Northern Ireland has saved the Loyal Orders an estimated £4.6m on their rates bills over the last six years.
The figure was confirmed by Stormont's Finance Minister, Sammy Wilson, in answer to a written question from his DUP colleague, Jim Wells.
The party had lobbied for the exemption under direct rule, and the change came into effect in 2006.
The halls are listed among community buildings exempt from paying rates.
In a statement to the Belfast Newsletter, Mr Wells said: "The Democratic Unionist Party recognises the key role played by Orange and other community halls in Northern Ireland.
"This is particularly important in rural areas where these halls are often the only community facility."
Mr Wells said rates bills for individual halls could have ranged from "£500 for a relatively small, rural property to several thousands for some of the halls in major towns".