Family of killed Army medic speak of pride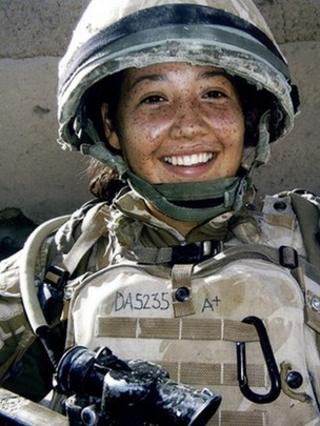 The family of a medic from Northern Ireland who died in Afghanistan have spoken of their pride in her.
Cpl Channing Day, 25, of 3 Medical Regiment and Cpl David O'Connor, 27, of 40 Commando, were fatally injured in a gun battle on Wednesday.
Her 27-year-old sister Lauren said the Comber woman had always loved the Army.
"If there was one thing she knew growing up it was she wanted to be a soldier, proven by the way she'd march around the living room," she said.
"She loved what she did and we are so proud of her.
"Channing grew up into the bravest, beautiful, determined woman. she has done more in her 25 years than most women her age and we are so very proud of everything she has achieved."
In a statement, released by the Ministry of Defence on behalf of the family, Lauren said that they were an extremely close family and that Channing's death had "hit them hard".
"Channing and mummy were not only mother daughter but they were best friends who told each other everything," she added.
"She was a best friend to us all. Each of our lives will always be a special part of the other."
A book of condolence will open at St Mary's church in Comber at 09:00 GMT on Sunday.
The MoD is investigating how the soldiers died. They were in a fire-fight while on patrol in Helmand province in which an Afghan man, thought to be an off-duty policeman, also died.
An initial review has said that the killings were not caused by "friendly fire".
The MoD says its analysis of the deaths is still continuing and "further investigation into the involvement or otherwise of the dead Afghan male is ongoing."
It said analysis is likely to take some time while forensic and other tests are carried out.
Cpl Day joined the Army in 2005 and was deployed to Afghanistan on 2 October. She was the third British woman to have died while serving in Afghanistan since 2001.
A total of 435 British military personnel have been killed in Afghanistan since operations started in 2001.