Poots decision disgrace says Green leader Steven Agnew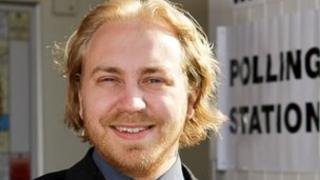 The leader of the Green Party in Northern Ireland, Steven Agnew, has launched a strong attack on Health Minister Edwin Poots.
He said Mr Poots' decision to challenge a court ruling that unmarried couples and people in civil partnerships should be allowed to adopt, was a disgrace.
The Green leader said the minister was "unfit for office".
Mr Agnew was speaking at his party conference in Belfast.
At present a single gay or lesbian person can adopt, but a couple in a civil partnership cannot.
Earlier this month, High Court judge Mr Justice Treacy ruled that the ban discriminated against those in civil partnerships and breached their right to family life.
Mr Poots said his department's position remained unchanged by the judgement.
The party also devoted a large part of its conference to a debate on education.
Mr Agnew said that there had to be an early year's strategy and that government departments must plan services in a more co-ordinated fashion.
"The silo mentality at the heart of Northern Ireland's governance means that our limited resources are not being spent wisely and ultimately children are losing out," he said.
Mr Agnew was also critical of the DUP chairman of the Justice Committee opposing raising the age of criminal responsibility.
"Given some of his colleagues desire to bring back the death penalty the DUP seem to want to swap hug a hoody for hang a hoody," he said.