Man, 76, is killed in Dungannon farm accident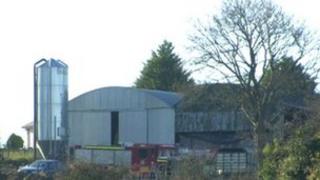 Tributes have been paid to the 76-year-old man who died in a farming accident near Dungannon in County Tyrone.
Jackie McCooey died after falling into cattle feeding equipment.
The emergency services were called to the scene on the Killybracken Road just after 20:30 BST on Friday.
It brings the number of farm deaths in Northern Ireland to 24 in the past 20 months.
SDLP councillor Patsy Daly knows the family well.
"The community is in complete shock at the death of this father and husband," said SDLP councillor Patsy Daly, who knows the family well.
"Jackie was a well known, highly respected, hardworking farmer in the area and held in very high esteem in the community as a whole."
Inspectors from the Health and Safety Executive have been to the farm and will start an investigation.
Harry Sinclair, the president of the Ulster Farmers Union, said it was a difficult time for Northern Ireland's farmers.
"Again it's another tragedy for the industry," he said.
"It appears to have been a very unfortunate accident that has happened and it has led to the tragic death of another farmer.
"Over the last two years now it's been averaging nearly one a month, a tragic number."