Peter Robinson says Gerry Adams must 'admit IRA role'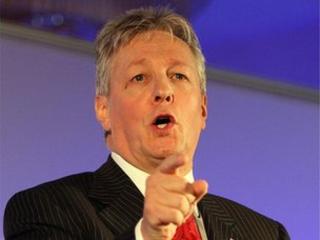 DUP leader Peter Robinson has called on Sinn Fein leader Gerry Adams to "admit he was in the IRA".
In a speech to DUP councillors in Antrim, he said that Sinn Fein needed to come clean about its members' pasts.
Mr Adams has consistently denied that he was in the IRA.
"If republicans genuinely want the truth to be told let Gerry Adams admit he was in the IRA. Let him disclose he was in its leadership," Mr Robinson said.
"Let republicans confess responsibility for the Northern Bank robbery and let Sinn Fein leaders who have been named for involvement in terrorism by their former IRA colleagues come clean."
Mr Robinson also criticised a speech made in Westminster earlier this week by Sinn Fein's national chairman Declan Kearney.
In a speech on reconciliation Mr Kearney said that unionists had to accept their role in the past and referred to the role of DUP politicians in Ulster Resistance. He also accused Mr Robinson of living in "a time-warp".
There have been tensions recently between Sinn Fein and the DUP over delays to Executive decisions.
Last week the first minister claimed Sinn Fein's fear of the SDLP was "often paralysing decisions in the Executive".