Hurlers' concern at ash import ban over fungus dieback fears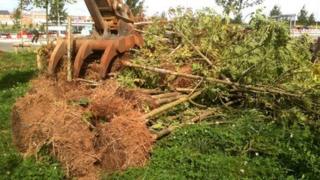 Hurling clubs have expressed concern at a ban of imports of ash trees by the authorities in Northern Ireland and the Republic of Ireland to help prevent the spread of Chalara dieback.
Chalara ash dieback, caused by a fungus called Chalara fraxinea, has been found in Great Britain.
In Denmark, the disease has wiped out about 90% of the ash trees.
Liam Quinn, who is hurling secretary of the Belfast club Bredagh, said they were worried about the ban on imports of ash trees.
"It could be a difficult time for hurling if this ban comes in and carries on for any length of time," he said.
"It could be a serious problem for our club, because a lot of our boys are students or unemployed.
"There is a fair bit of expense in buying a hurl anyway and any increase is not going to be welcome.
"We would be struggling to keep the club going if there is any big increase in the price of ash."
Padraig Mason of Portaferry GAA club said the ban would "increase the cost to every club".
Michael Scullion from Loughgiel, who makes hurls, said ash was used in the manufacturing process due to its "combination of flexibility and strength".
He also expressed concern about the ban, but was hopeful that the supply of suitable raw materials would continue.
"We use mostly Irish and English ash, we cut a lot ourselves," he said.
"We have our own saw mills and go into the woods when the opportunity arises to knock the trees and process them ourselves.
"That said, 70% of the hurls that are used are made from imported timber and the ban is one thing, but if the disease did take hold it could kill off stock.
"We are part of the Irish Guild of Ash Hurleymakers and they are working with the board in the south to maintain the supply for hurleymakers, so hopefully there will be some arrangement that can help us go forward and continue to make the traditional hurling sticks."
Last week, Agriculture Minister Michelle O'Neill said she had had talks with her counterpart in the Irish Republic and they were taking a "fortress Ireland" approach on the issue.
"We agreed that emergency legislation was essential to control the imports of ash trees into Ireland," she said.
"It was therefore an important step that we have co-ordinated the introduction of legislation so that we have equivalent measures coming into force on the same day north and south."
Leaf loss
She said that emergency legislation had been introduced and there would be a meeting of stakeholders and industry representatives this week to discuss further monitoring and control measures.
The Republic's Forestry Minister Shane McEntee said the measures would make it an offence to import ash plants and seed from areas within the EU that are known to have the disease.
Mr McEntee said the move "follows on from a voluntary import ban from continental Europe by the forest nurseries".
Ash dieback has recently been reported in County Leitrim.
The disease was reported in Great Britain this month at two sites in East Anglia. It had previously only been recorded in nursery specimens.
Visible symptoms include leaf loss and crown dieback in affected trees, and it can lead to tree death.
Experts say that if the disease becomes established, then it could have an impact on the landscape similar to that cause by Dutch elm disease in the 1970s.
It is widely expected that legislation will be passed by Westminster in time for a ban to be in force by mid-November.