OFMDFM criticised over Ilex appointment delay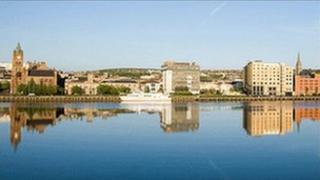 The Office of First and Deputy First Ministers has been criticised for taking "much too long" to fill an important post at the Londonderry regeneration company, Ilex.
The BBC has established that two candidates were found suitable for the job of chairman after interviews in the spring, but OFMDFM then decided to start afresh.
The aborted selection process cost £9,500.
A re-advertisement had been promised.
It is to due to happen later this year and the Public Appointments Commissioner, John Keanie, said he hoped OFMDFM would "get on with it".
He was told that "ministers wanted a wider field of choice", despite two candidates being deemed appointable.
The search for a permanent successor to Ilex's last chairman, Sir Roy McNulty who left in March, has become a drawn-out affair at a time when the organisation is also losing its chief executive.
Aiden McGinley leaves on Friday for a position on the BBC Trust.
"Arrangements to secure a suitable successor are currently being developed by officials," said an OFMDFM spokesman.
SDLP MLA for Foyle, Colum Eastwood, has asked questions at Stormont.
"We need people put into these positions quickly and urgently to develop the plans for this city," he told the BBC.
"Martin McGuinness and Peter Robinson need to get on with the job."
A performance review of Ilex is also being conducted.
In May, its board was informed the review would not look at personal performance, which was a matter for ministers.
Ilex was set up in 2003 and is involved in projects like the regeneration of Ebrington Barracks in Derry.
It was criticised in an Audit Office report this year which claimed there was a "systemic breakdown" in how it used public money - £400,000 was spent without proper approval.