Gallaher cigarette factory owners JTI fined 150k after worker killed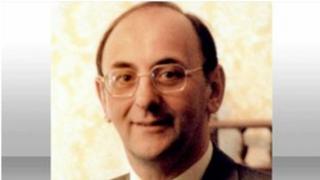 JTI, the company which owns the Gallahers cigarette factory in Ballymena, has been fined £150,000 for health and safety breaches after a worker was killed at the plant.
Trevor Allen, a 63-year-old maintenance engineer who had worked at the firm for over 30 years, was crushed by a falling robotic arm in July last year.
He was taken to hospital after the accident but died four days later.
The firm was prosecuted by the Health and Safety Executive NI (HSENI).
According to the HSENI, Mr Allen was carrying out repair work on equipment when it fell on top of him.
The HSENI found that neither Mr Allen, or his colleague had been trained to carry out the work they were asked to do, nor had the company carried out a risk assessment.
It said it had also emerged that others in the factory were trained to do the job but an attempt to contact one of these was made too late to save Mr Allen.
Louis Burns, head of HSENI's major investigation team, said the tragedy could have been avoided.
"It is hard to overstate the potential for death or serious injury arising from poorly planned repair and maintenance work," he said.
"Careful planning and extreme care must be taken at all times to ensure that the correct people and equipment and systems of work are provided and used.
"It wasn't on this occasion and a life was needlessly lost as a result."
At Antrim Crown Court on Friday, the firm pleaded guilty to two breaches of health and safety legislation including failing to carry out a proper risk assessment.
Imposing the fine, the judge said the breaches were extremely serious and if a proper risk assessment had been carried out the accident could have been easily avoided.
However, in mitigation, he said the company had a previously exemplary safety record and had co-operated fully with the HSENI.
In court, a lawyer for the firm read out an apology to the family.
Afterwards, Robert Bisaillon, managing director of JTI in Ballymena, expressed his deep sorrow about Mr Allen's death.
"Trevor Allen was a valued member of our team for 33 years and his death has been deeply felt by everyone at the factory. Our thoughts remain with his wife, his two sons and his extended family," he said.
"We sincerely regret that this tragic accident occurred and recognise and acknowledge the family's devastating loss.
"Our business has a long history in Northern Ireland and we are proud of the dedication and the quality of our employees in the Lisnafillan factory. We place the utmost priority on the health and safety of employees, work rigorously to minimise risk, and are committed to continual health and safety improvement."
The court heard JTI cooperated fully with the HSENI investigation and that the company had accepted two breaches of Health and Safety law.
The JTI plant is a major employer in the town. Around 2,000 people work at the plant producing cigarettes and cigars. Gallahers was taken over in 2007 by the Japanese firm JTI.