Martin McGuinness holds first talks with Orange Order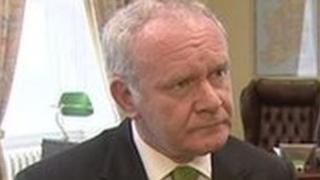 Sinn Fein's Martin McGuinness has told the BBC that he has had his first face-to-face meetings with senior members of the Orange Order.
Mr McGuinness made the comment during an interview on the BBC programme The View on Thursday.
The deputy first minister said he had met Orangemen earlier this week.
Mr McGuinness said they had discussed the activities of some members of loyalist bands during the last few months.
"I think there is a duty and a responsibility on the Orange Order to deal with these bands," he said.
"To be fair to the Orange men that I spoke to earlier this week, they expressed their total disapproval of the activities of these bands.
"What needs to happen is that the Orange Order and the leaders of unionism need to very forcibly challenge the activities of these bands."